In Fall 2021, acrosser Technology is introducing its 3 new network appliance products, including AND-El6KE1, AND-APL1E1/E2, and ANR-C246E1, to all customers.
The AND-EL6KE1 is equipped with the latest Intel® Celeron® J6000 /Pentium® N6000 series/Atom™ x6000E series processors (formerly Elkhart Lake). This new product is specially designed to satisfy every aspect of UTM, NGFW, firewall, VPN, SDN, NFV, vCPE, and SD-WAN service providers.
To enhance the product reliability, AND-EL6KE1 built a redundant power supply to prevent unpredictable accidents. To empower the connection ability, AND-EL6KE1 is equipped with 4 copper Gigabit RJ-45 LAN ports and 1 fiber SFP port, and also provides 6 antenna ports and 3 Mini PCIe slots (co-lay with M.2) to increase wireless flexibility. Up to three wireless modules can be installed at the same time in AND-EL6KE1 (including multiple Wi-Fi and Bluetooth networks and 4G and 5G cellular modules).
Overall speaking, AND-EL6KE1 is perfect for UTM, NGFW, firewall, VPN, SDN, NFV, vCPE, and SD-WAN.

The Major Specifications of Acrosser AND-EL6KE1
Intel® Elkhart Lake Platform
4 core SoC
1 x SO-DIMM DDR4
1 x 2.5″ SSD, & 1 x mSATA
Fanless Design
Dual DC-in for redundancy
The AND-APL1E1/E2 is a new ultra-compact network box with a 155 x 92 x 32 mm tiny size dimension. It is powered by Intel® N3350 SoC and designed to be easy to deploy in home offices, small businesses, and branch offices as well.
Even AND-APL1E1/E2 is such a small network box, Acorsser still designs it as a durable, reliable network appliance. It is definitely a good choice for budget buyers and ideal for deployment as a VPN, Firewall, SD-WAN, NAC, vCPE in any environment with a limited budget.

The Major Specifications of Acrosser AND-APL1E1/E2
Intel® Apollo Lake Celeron N3350, Atom E3940
Onboard 2GB LPDDR4 memory, Optional 1x SO-DIMM slot
4 x GbE, 2 x USB 3.2 Gen1
1 x Mini PCIe Expansion
1 x 2.5″ SATA 3 bay, Onboard 8GB eMMC
The ANR-C246E1 rackmount network appliance is equipped with a power Intel® 8/9th Gen and Xeon E, Core™ i7/i5/i3 processors in smaller rackmount chassis of 430(W) x 44(H) x 200(D)mm dimension. This design can provide customers a more flexible choice in rackmount servers.
The ANR-C246E1 provides a more flexible server platform & system expansion versatility with 8x GbE copper LANs, 1 x expandable network interface modules (Exp. NIM), 1 Console, 2x USB 3.2 Gen 1, 2 x SO-DIMM DDR4, 2 x 2.5″SATA-III, and 1 x mPCIe/mSATA socket. The ANR-C246E1 is also equipped with an LCM display with 4-key buttons. Withing these powerful computing abilities and outstanding network communication abilities, ANR-C246E1 is perfect to apply to UTM, vCPE of SDN/NFV structure, fog node of cloud computing, and IoT gateway.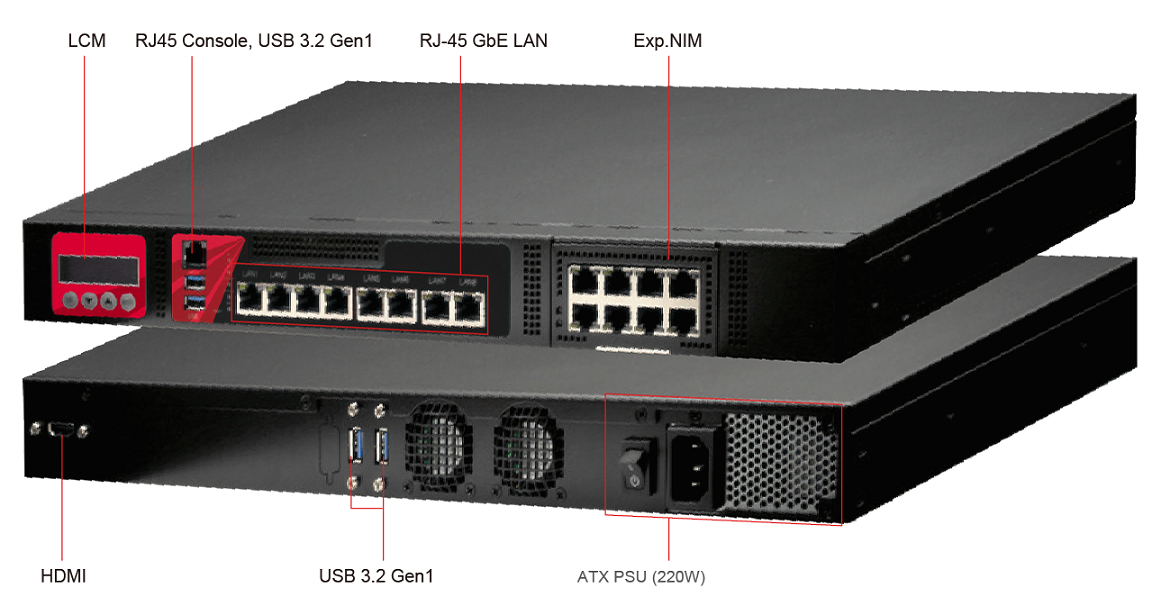 The Major Specifications of Acrosser ANR-C246E1
Intel® 8/9th Gen Xeon E, Core™ i7/i5/i3
2 x SO-DIMM DDR4
1 x Exp. NIM (1G/10G/40G, Fiber/Copper/LAN Bypass)
8 x GbE Copper with 2-pairs LAN Bypass
2 x 2.5″ or 1x 3.5" SATA-III
1 x mPCIe/mSATA socket
Acrosser is 100% committed to providing its OEM/ ODM/ JDM and end-user clientele with high-quality innovative networking appliances and embedded computer solutions for shorter time-to-market and in achieving higher competence to win business opportunities in the marketplace. For more information, please visit: https://www.acrosser.com/en/Contact/Inquiry
Subscribe to our social media sites and stay connected!
Please visit us @ the following social media sites:
Acrosser Facebook
Acrosser Twitter
Acrosser Youtube
Networking Appliance, network appliances,  Microbox Network,  Network Server Hardware,  Microbox Network, 1U/2U rackmount servers ,  SD-WAN hardware solution,  SD-WAN